Testimonials
I purchased a new 7712 Pipe Top trailer from Moore Trailers in St Charles, MO at the beginning of the year. When I bought the trailer, the salesman told me I would be happy with it. Now that I have it, I can't go a week without a "friend", family member, or neighbor asking me to "haul this", or "help me go pick up that". Do you know how many people in my neighborhood are buying playground sets? And now that spring is coming they are asking me if they can "go in" with me to get bulk mulch! What am I, a part-time landscaper?!?! This is YOUR FAULT!!! I actually bought this thing to haul my new side-by-side. Poor "Old Red" wasn't long enough. My Doolittle tows so well and smooth and light that I forget it's back there. Then WHAM!! I glance in my rearview mirror and all I see is my side-by-side's headlights! It scares the hell out of me! Why can't you make a trailer that sways, rattles, pulls heavy and constantly reminds me that it's looming behind me and trying to change lanes without permission? I don't know how you people can sell a trailer that looks so good and tows so well! WHAT ARE YOU THINKING! Sure, my old red trailer had some rust and maybe a split board or three, and yeah it had a bent axle, but that way I knew it was always back there. It rattled and bounced over every bump in the road. None of my family, friends or neighbors one trusted it to even haul their trash cans. It was a nice time back then when I had peace and solitude. But not anymore. I now know all my neighbors, have spent time with my crazy brother-in-law hauling wood for his basement remodel, and have already been roped into saving the delivery fee on new furniture - in my own house! EVEN MY WIFE IS CORRUPTED!!! It's too late for me, I now own this abomination, and will keep it if only to keep one person from being subjected to this horrible affliction. But for the love of all things Holy, lower the quality of your trailer so others like me can continue a life of living a quiet, lonely life of angrily towing wobbly, weak, noisy, ugly trailers!!
This past summer, I brought my 5x8 Cargomaster trailer to the factory for warranty work on corroding rear doors. I want to compliment your entire staff for a very pleasant experience. From the receptionist at the front desk to the staff that handled the replacement of the trailer doors, I was extremely pleased by each person's attention, pleasant demeanor, and attention to getting this done so I could travel home in a timely manner…I was told 2 hours to complete, it only took 1 hour and 45 minutes. Thank you for being a customer friendly business. I will certainly make Doolittle Trailer Mfg the choice for any future purchases and will certainly recommend your product to all who are looking for a trailer.
Couldn't ask for better people. These guys drove 15 hours round trip to make sure I received my trailer on the promise date. Awesome people and awesome trailers. Thank you again.
Another bada$$ shiny new trailer. Thank you to Doolittle Trailer Mfg for the quality you put into these trailers!
Great Trailers, well built with great quality! Pulled my new 26' enclosed 4k miles like it wasn't even behind me! Thank you!
Great trailers! I have a gooseneck car hauler and a dump trailer bought both new and have had nothing but perfect luck with both. if they offered stock trailers I'd have one of them also!
I purchased the 7712 -SS and love it. I've always purchased the cheap Carry On trailers and this one was not made cheap by any means. The gate works just like advertised and the trailer pulls great.
I recently purchased a Doolittle trailer from a local dealer not far from Holts Summit and we are absolutely pleased with it. Sealed the deck and have even used it already. I couldn't be more thrilled with everything from our initial office visit, to pick up. The only thing I have bad to say is that we did not purchase one with LED lights, and somehow one of our lights busted, so we had to replace it. Definitely recommend spending a little extra for the better lights.
I bought my cargo trailer last year and we use it all the time and haven't had one issue...Excellent value and quality...I would buy another Doolittle without question.
Have had my Doolittle trailer for almost 10 years now and most of my friends get more use out of it than I do but it has been nothing but good to me.
My story is about my 1988 Doolittle trailer. I came across your site looking for a good trailer for my brother's needs and seeing the fact that you are a family business that has been building trailers for many years I thought that you would appreciate my story. I have hauled dirt, sand, stone, bulk landscape mulch, wood pellets (2 ton at a time, many times ), ATV's, snowmobiles, tractors, boats, scrap metal, logs, lumber, picnic tables, ice shacks, 5 or 6 deer at a time, once had over 40 coyote carcasses, 2 moose, and moved a couple of kids furniture to college and back home, etc etc. All over the years, replacing the wood deck couple of times, painted up a few times, (original paint was red) new set of tires few times. This little trailer has been a lifesaver in my work life. I will never part with it… So when I have a friend or neighbor pull up beside my trailer with one of those dime store angle iron trailers and say, "I have a trailer like you, Jim", I turn and think to myself NOT EVEN CLOSE…..Keep up the good work. P.S. I'd be proud to wear your DOOLITTLE t-shirt and advertise for you!
I recently purchased one of your 6×12 cargo trailers. I purchased it from LCL Truck Equipment in Hastings Nebraska. I looked at many different brands of trailers in the area but after talking to Lisa Crawford at LCL Truck I was sold on the Doolittle brand. I love how well built your trailer is and how well it tows. I want to thank you for keeping the quality of the equipment you make. Also, your pricing and the dealers were wonderful. I would recommend your line of trailers to anyone and brag on my all the time. Once again thanks to the high quality and the great salesperson I would recommend your trailers to anyone. Thanks for keeping quality in America!
I purchased a 16 Foot, "Bullitt Series" Doolittle Trailer, and picked it up at the fabrication plant in Missouri. The craftsmanship and quality of materials used exceeds industry standards (I'm a Former USMC MP, Retired State Police Officer and a Retired California Real Estate Broker). I encourage anyone considering a trailer purchase to first look at Doolittle Trailers before you buy something else and regret it later. They take pride in construction, and the attention to detail during fabrication is the best; bar none (All the welds are perfect!!!) I assure you, that after you look at their product, the decision to buy a Doolittle Trailer, will be an easy decision to make, and one you can make with confidence. I met both Mike and Carl while picking up my trailer. Both are at the top of their game. I am easily 100%-plus satisfied with my trailer, as well as with the commitment to customer service and customer satisfaction. My Trailer pulls like a dream at 70 MPH behind my 2017 Crew Cab, Denali Duramax. I would not buy any other trailer besides a Doolittle Trailer and I encourage others to do the same. Thank you for the hard work your employees/craftsmen do!
Love my SS-7712. Hauls my tractor beautifully! Pulls the same today as the first day, which was 2 years ago!
This trailer pulls like a dream. I bought it to haul my smart car behind my RV. Bought some mag wheels and gave it a patriotic paint job. Sure to turn heads where ever I go.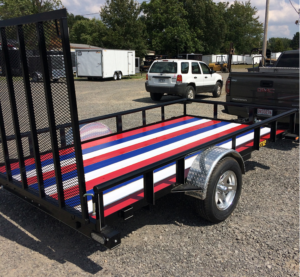 - William Melton
I've always had ****** trailers for my hotshot Business until a friend let me borrow his Doolittle gooseneck, it's by far that is the best built trailer on the market! My company is in the process of buying our very first 35-foot Bruteforce Doolittle trailer. I personally own the bumper pull Doolittle and I get lots of complements! Great company, great warranty, great trailers Doolittle Trailers, y'all are amazing keep up the good work! I even have y'alls decal on my Dually truck I'd love to have a size XL please to go with my rig!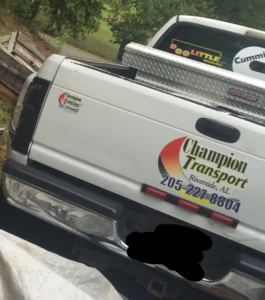 - Josh Champion
I purchased a used 7×10 Doolittle utility trailer with a 5000lb axle. This is one of the best purchases I have made in my life! I spent marginally more than what I would have had to pay for the "light" utility trailers at some of the box stores and it is built 10 times better!! I could not be happier with the quality of the product. As they say "buy nice or buy twice"…truer words have not been spoken.
Earlier this year I was looking for a new utility trailer, and found Doolittle trailers to be the best, they are built well and I was treated like family. I will tell anyone looking for a trailer. Go with Doolittle!
We have a 25ft deck over that we have had here at our company for almost 10 years. It has held up to everything we have subjected it too. Overall a good trailer.
I love my new Doolittle extreme equipment trailer. I had a cheaper built trailer that I used for a few years and it recently got stolen. When I went to replace it I thought about everything I wish it had over the years. After plenty of research I realized that a Doolittle Xtm 8418 was exactly what I wanted and needed. I always get compliments on how nice it is and I couldn't be happier with the quality. It really is the Cadillac of utility trailers and the price was right.
Great trailer used it to transport my car behind my motor home to Yuma, AZ.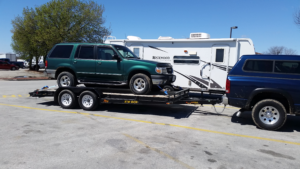 - James Miller
Purchased this SS7712 from Hoyt's Truck Center in Topeka, KS. Great Trailer, perfect to haul my tractor!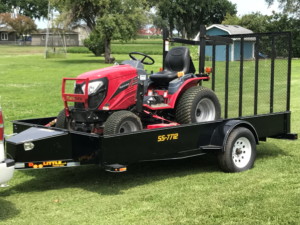 - Mark Reeder
I am a general contractor in the St. Louis area and I have used just about every kind of trailer Doolittle makes over the past 20 years in the hardest way possible. From hauling heavy equipment to loads of rock in their dump trailer, they never performed less than expected. The biggest bang for the buck hands down.
Awesome! Have owned several Doolittle trailers in the past and that experience solidified my decision to order a new Doolittle extreme a few months back. Blown away by the quality, function and even appearance of the trailer. We get compliments frequently when our company truck and trailer arrive at a job. Awesome equipment, awesome people and a solid investment. Will return again for any further trailer needs!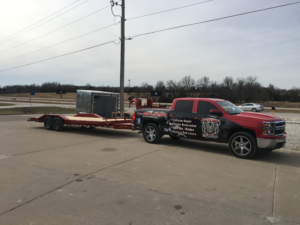 - Zak Fletcher